Monday, June 6, 2022 - 2:22pm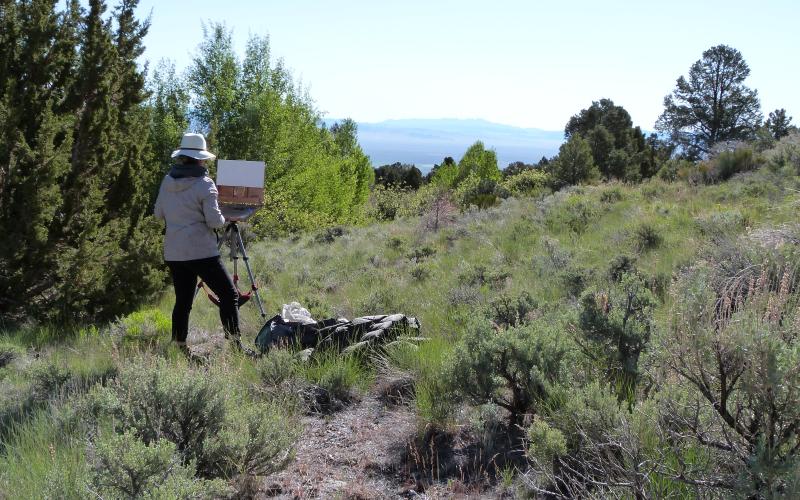 Second-annual artist-in-residence program selects two artists for national park residency program
The School of the Arts at the University of Nevada, Reno and the Great Basin National Park Foundation are excited to announce two artists this year for the artist-in-residence program. Paul Crow, visual artist and associate professor of art at Weber State University in Ogden, Utah has a background in photography and installation art. Mark Maynard is a local literary artist and professor of English at Truckee Meadows Community College in Reno, Nev. Both artists will complete a multi-week camping residency inside Great Basin National Park beginning Friday, July 8 through Sunday, August 7, with only one week overlapping each other. The rugged and remote environment, along with dedicated time, will offer the artists a reprieve from typical daily life while providing inspiration for creative work.
"I was thrilled to hear that I had been awarded the residency, as a lot of my recent work has involved working on location outside in natural environments," Crow said.
Each artist will be provided with a campsite and all the necessary supplies to enjoy the trip to the park, which is located in eastern Nevada near the Utah border. They will be surrounded by the natural beauty of the park from the 13,063-foot summit of Wheeler Peak to the depths of Lehman Caves.
Crow has had solo and group exhibitions for over 20 years. He plans to begin new work at the park that involves close observations of the natural world over time and seeks to acknowledge human-caused change in the world around us.
Maynard holds an MFA in creative writing from Antioch University Los Angeles and is currently a graduate student at the Reynolds School of Journalism. He has experience as a filmmaker/director, a podcast host/writer and as an author. Maynard plans to document and share the stories of people and place, through observation, interviews and imagination during his time in the park.
"I applied last year and spent some time reworking my application materials so I was really excited when I heard I was selected," Maynard said. "My wife and I visited the park last summer, both for the first time, so I'm really looking forward to returning this summer and getting to spend more significant time there."
The artists-in-residence will present at least one public program in the park during their residency which will be available to park visitors and the general public and will be interactive in nature. Crow will conduct his public engagement activity on Thursday, July 28 and Maynard's public engagement activity will be on Saturday, July 30, both at the Great Basin National Park Astronomy Amphitheater.
Upon completion of the residencies, the artists will present or engage in one public outreach program in their home communities to share Great Basin National Park and the residency program with audiences beyond the park's borders. The Artists-in-Residence will be asked to provide a digital portfolio of their creative activity (i.e. visual art, music, film, etc.) generated during the residency for the residency archive.
"An unexpected turn of events this year created an opportunity for us to host two individual artists and we could not be more excited," Tamara Scronce, Director of School of the Arts said, "We can't wait to greet these artists at the park this summer and we look forward, with great anticipation, to seeing the work they produce as a result of their residencies."