Friday, February 11, 2022 - 8:19am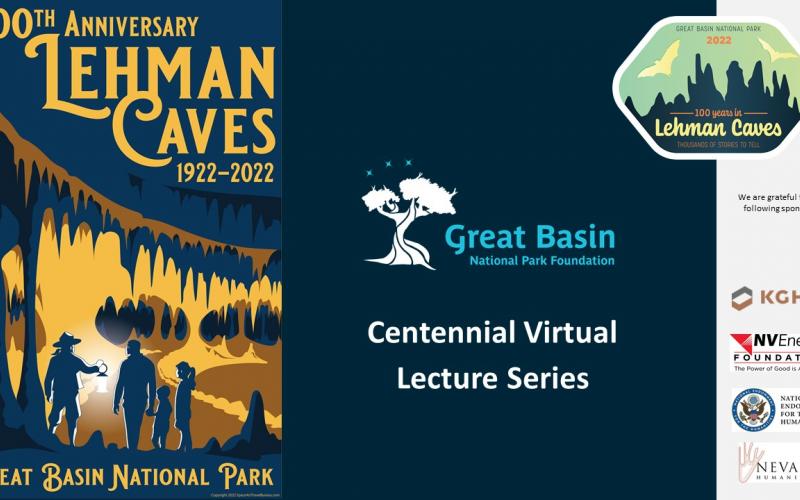 We are grateful to NV Energy Foundation, KGHM, and Nevada Humanities for supporting the 2022 Centennial Virtual Lecture series
Recordings of this special lecture series are in the links below.
A Close Up Look at Lehman Caves
What happens during lint camp? What creatures make the cave their home? What does the future of Lehman Caves look like? Join cave specialist Gretchen Baker for a behind-the-scenes look at Lehman Caves to answer these questions and more. Delve into the underground and crawl around with pseudoscorpions, millipedes, and mites; explore how cave management has changed over time; and check out some mysteries of the cave that researchers are still pondering. 
Gretchen Baker is the ecologist and cave specialist at Great Basin National Park. She has been caving for over 20 years and has also worked at Carlsbad Caverns National Park and Jewel Cave National Monument. 
Watch the recording of this presentation here.
Lehman Caves Ancient, Mysterious Past
Lehman Caves' beautiful mineral decorations…its calcite shields, stalactites, and helictites…draw the appreciation and wonder of tourists, but they also disguise much of the cave's fascinating, geologic past. The Southern Snake Range is an under-studied, world-class geologic laboratory, and Lehman and other caves in the region have altered what we know about the region's ancient past. Learn about recent investigations by the presenter that reveal information about the geologic history of the entire area.
Our Speaker: Louise Hose has explored and studied caves throughout the world for 50 years. Following a long career as an academic geologist, she continues her cave investigations on a volunteer basis around Nevada, with a particular focus on Lehman Caves in Great Basin National Park. National Geographic has twice featured her work and one of her proudest achievements was placing the term "snottite" in a highly recognized, refereed journal.
Watch the recording of this presentation here.
The Geology of Great Basin National Park
This discussion of the geology of Great Basin National Park is a beginner's introduction to the long and complex geologic history represented by the rocks that form Great Basin National Park, whose ages range from the Precambrian (greater than 600 million years) to the Cenozoic (as young as 10 million years).
Our Speaker: Elizabeth Miller has taught at Stanford University for over 40 years. Through these years she taught summer field geology in the southern and northern Snake Range. Undergraduate and graduate students camped in different places for six weeks during their summer field class and covered the ground on foot, charting the geologic details of the Snake Range and surrounding mountain.
Watch the recording of this presentation here.
The Great Basin Rattlesnake​
Great Basin National Park manages one of the longest rattlesnake studies in the world. Learn what has been discovered over three decades and how the park studies and manages this amazing snake. Learn how Great Basin Rattlesnake's live, where they go, what they eat, and their role in ecosystems. Our presenter will share his research, rattlesnake natural history, demonstrate techniques he uses to safely handle live rattlesnakes, and introduce you to his captive rattlesnake. 
Our Speaker: Bryan Hamilton is a wildlife biologist at Great Basin National Park in Baker, Nevada. His interests include conservation biology, community ecology, herpetology, bats, bighorn sheep, landscape restoration, and rattlesnakes. Bryan has worked on rattlesnake ecology for over 30 years. 
Watch the recording of this presentation here.
Bonneville Cutthroat Trout: Resilient in a Changing World
Bonneville cutthroat trout are a truly resilient species. They survived the desiccation of their original home - ancient Lake Bonneville, adapted to life in mountain streams, persisted in remote headwaters when nonnative trout invaded their habitat, and with help from various management agencies, returned to much of their historic range. However, the struggle for Bonneville cutthroat trout and the organizations that wish to protect them is not over. This resilient species faces threats in the form of drought, wildfire, and a warming climate. Join us to learn about the history and future of Bonneville cutthroat trout in Great Basin National Park.
Our Speaker: Jonathan Reynolds is the Fish Biologist at Great Basin National Park and he has been working with Bonneville cutthroat trout for the last 13 years.
Watch the recording of this presentation here.