Artist Reflections on Camping Residency
Friday, August 20, 2021 - 10:51am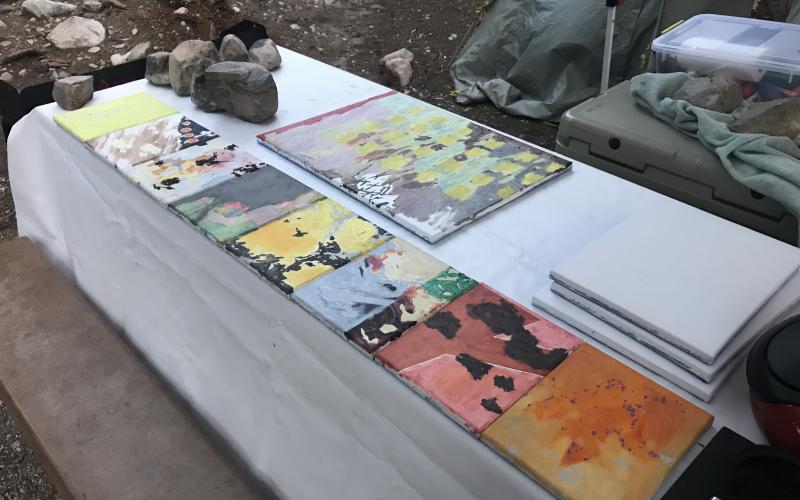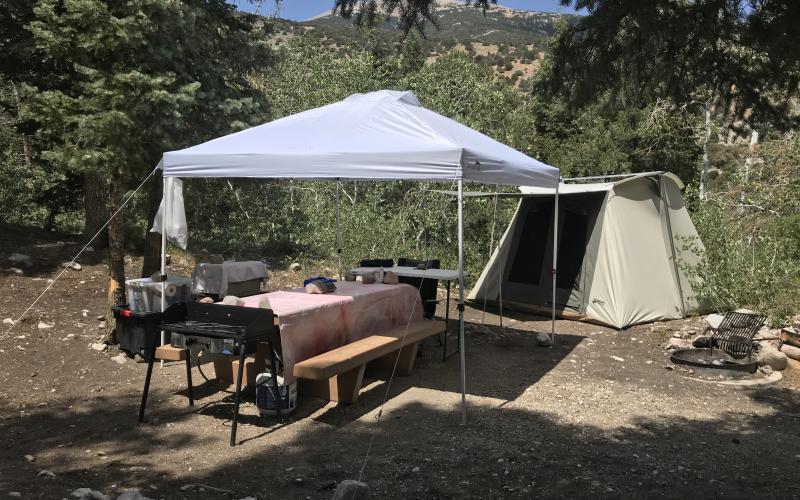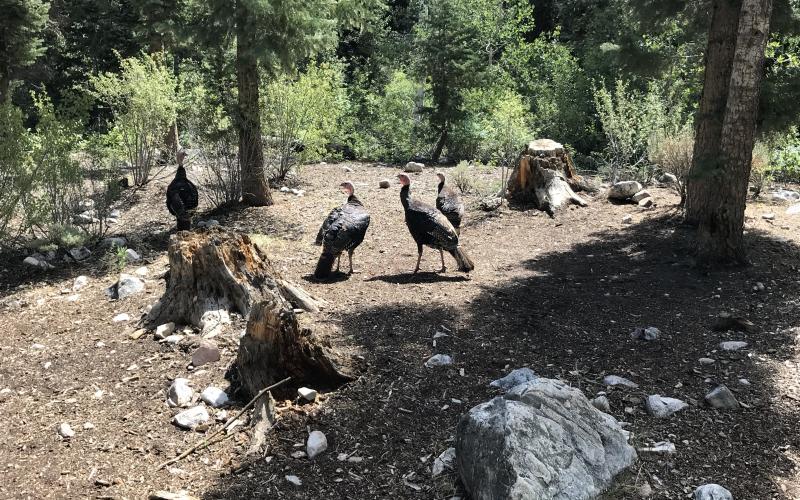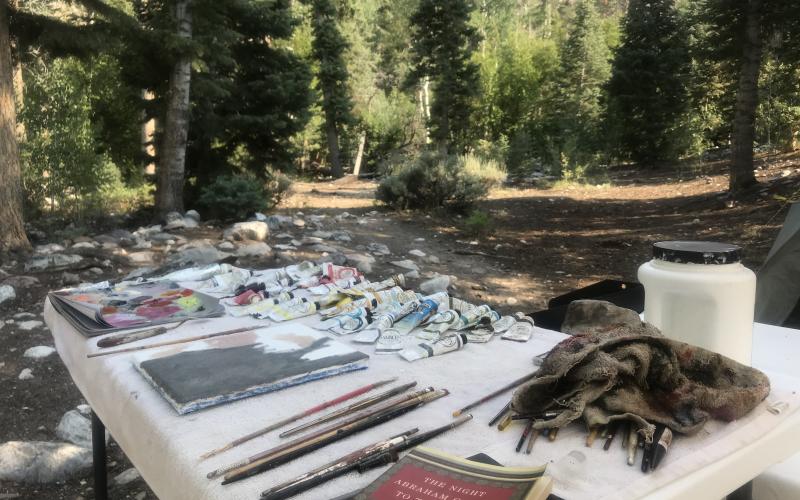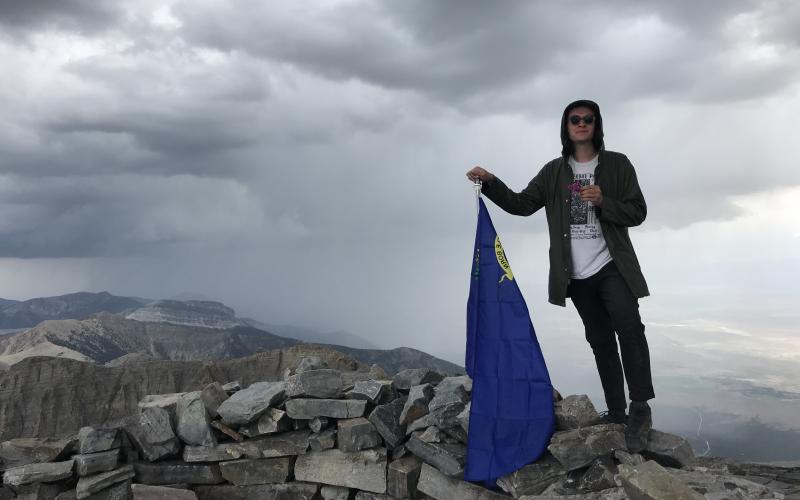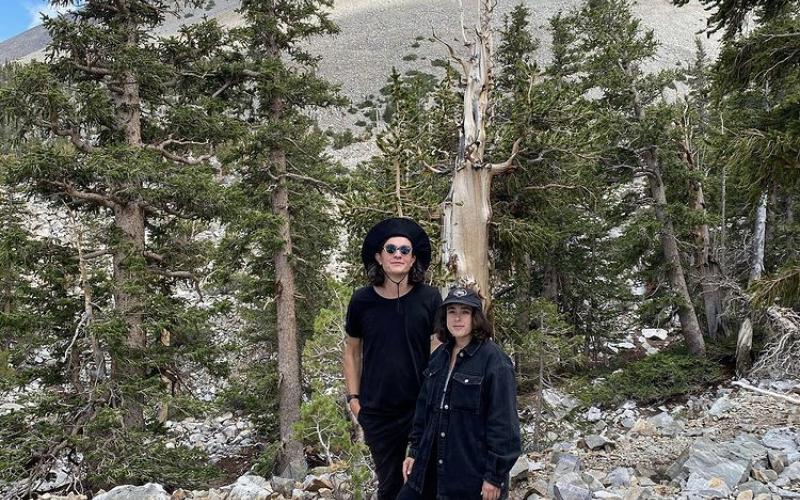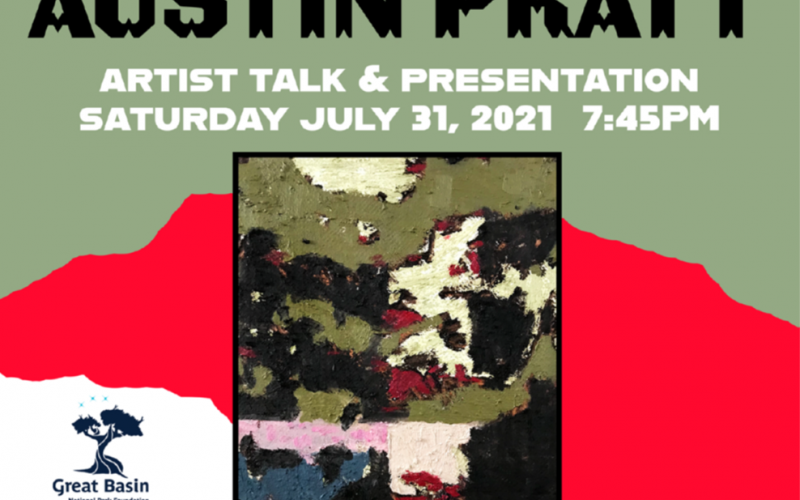 Great Basin National Park Foundation's first regional camping Artist in Residence finished his residency at the Park in August. 
Austin Pratt wrote about his residency:
My daily routine:
On a typical day, I woke up around 6:30 and greeted the group of "wild" turkeys often walking through my campsite. I would make coffee and breakfast, clean up and either get to work preparing and working on some paintings I started, or else pack a lunch and water for some adventuring to get into. Many days I went on long hikes. Some days I went to hang around the visitors center for a couple hours, bugging the rangers about questions of geology or history or astronomy. It rained pretty significantly nearly every day I was there, usually starting in the afternoon with a lighting and thunder performance and ending by sunset, but often into the night. Most mornings and afternoons were very clear and warm, with lower and comfortable temperatures, and somehow avoiding almost all of the smoke of the Western wildfires. In the evenings I made dinner, read or worked on drawing in my tent, or hung out in Baker Creek which flowed through my campsite. On Thursdays and Saturdays I made it a point to attend the Astronomy Ranger Program and Telescope Viewing at the recently completed Astronomy Amphitheater in the park. 
Methodology:
I began several drawings and somewhere around a dozen small paintings. I worked entirely at my campsite, on the tables outside and inside my tent. The work began almost entirely from visual information found in the park that I snapped photos of on my phone. These sources, textures or colors from the natural world became jumping off points for my work which often exists as a kind of fragmented organic abstraction. I didn't finish any work, but got the dozen or so paintings to what I imagine as a nearly half-way point that I'll continue to resolve. I think these paintings in the park have a particular kind of energy that may lend itself to new work, or I may process my experience in some different way as I begin to unpack that time and develop work for an exhibition later this year.
Great Basin Challenges:
On the way out to the park in early July, my 1986 Volvo station wagon broke down several times on the side of the road, turning back on after waiting 15 minutes or so. I carefully continued slowly and without cell service across the state, finally finding a mechanic in Ely who would be interested in inspecting it, but "not until next week". Fortunately I made it safely to the park a day late, and was able to drive it back to Ely (70 miles) the following week and found a ride back to the park while I waited. I ended up needing to replace a fuel filter, so it was easy and affordable, but I also didn't have a vehicle at all in the park for nearly a week. My campsite was 3 miles up a dirt road away from the Visitors Center, where I was able to charge my phone, laptop and camera, so it was a little more challenging that week to be a bit further untethered from civilized support. Even still, with a car, the park is removed from most usable cell service, and all internet, so establishing any outside contact (for other work or family obligations) turned simple tasks into hours long attempts at email, etc. I was excited and privileged to be relatively off-the-grid and enjoying the natural world for three weeks, but during that duration, I couldn't possibly remove myself entirely from normal obligations. The rain and lighting also posed some challenge to being outside at camp. Early on I developed a system to be able to quickly shift my painting studio supplies and work into my tent within minutes, which was often all the notice I had. I also hiked Mt. Wheeler! That was quite a challenge.
The first week I attended the astronomy amphitheater and became enamored with the outdoor setting, the Romantic red lighting (to mitigate light pollution), the infrastructure for video projection, and a communal setting. I decided I would organize an otherwise traditional artist talk in this space on a Saturday evening just before the Astronomy program, giving me access to a captive and large audience, and the opportunity to share my work and thinking to a family friendly crowd. I spoke for thirty minutes on my process and methodologies as an artist, why I applied to the program, how I spent my time in the park, and what I was working on. The turnout was a bit smaller than usual due to cloud cover, but there were probably 60 people in attendance. 
Highlights:
I was very fortunate to meet one of the Great Basin National Park Foundation Board Members, Kenji Hakuta, who was also camping at the park during much of my stay. He is extremely generous, curious, and engaged, and we spent a great deal of time together hiking and exploring various archaeology, geology, and cultural sites around the park. Dr. Hakuta is a retired Stanford professor who has recently become obsessed with any and all things Great Basin, so we shared many interests and long discussions, and I was grateful to make a new friend. 
The Greatest Adventure of them all:
The last weekend I was there, I was happy that my partner Alana was able to drive out and visit me in the park before we returned back to Reno. I'm thrilled to report that during that time we became engaged to be married, and it was a great time and location to reflect on time, space, life and love.