Astronomy Interns
Wednesday, November 3, 2021 - 5:07pm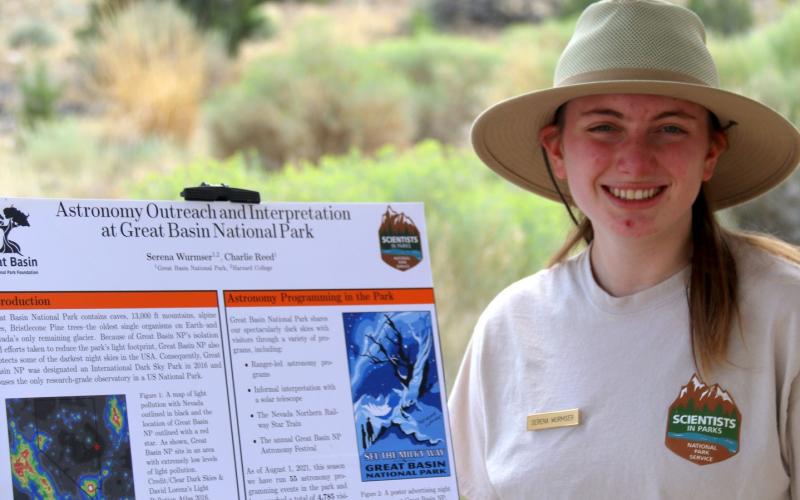 Stargazing and astronomy programs at Great Basin National Park have become more popular every year. From telescope viewing and tours of the milky way, to Park Ranger led Star Trains that leave from Ely, Nevada, Great Basin National Park is doing a great deal to connect the public to Great Basin's truly inspiring dark skies. 
An awe-filled experience at a Great Basin National Park astronomy program requires dark skies, stargazing equipment, and highly specialized personnel. Great Basin National Park Foundation funds facilitate two of these necessities; telescopes and specialized interns (we leave the weather to mother nature).
In 2021, Great Basin National Park Foundation funded 3 specialized "Scientist in the Park" interns. Unfortunately, Great Basin National Park only had 6 of their normal 13 interpretive seasonal rangers in 2021. Much of this was due to COVID-19 related issues, but with the 3 interns, the majority of astronomy programs could still be offered.
"The Scientist-in-the Park interns were incredibly important for delivering astronomy programs in and outside of the Park this year, as well as helping with cave tours," related Great Basin National Park lead interpretive ranger Charles Reed, "and this year's interns were very interested in both astronomy and geology, making them really great assets to the Park and the public."
A great aspect of the Scientist in the Park program is the incredible applicant pool. 
The Park was lucky to hire Serena Wurmser for the summer months who took a break from studying Astrophysics and Earth & Planetary Sciences at Harvard University. At the Park, Serena shared her deep understanding of the cosmos, as well as her heartfelt connection to gazing up at our universe. This was easy for Serena to do, as an experience from when Serena was young is what put her on the path she is following today. 
When Serena was 12 she went on a family trip to Utah from where she lived in New Jersey. It was at Bryce Canyon National Park that she saw the Milky Way in all it's glory for the first time. She remembers distinctly how this overpowered her with emotion and a longing to learn more. 
During the summer, Serena shared her passion for the cosmos during weekly astronomy programs, she also monitored the skies for light pollution by taking night sky quality measurements, talked with attendees at the Great Basin Observatory's 5th anniversary event, and reached over 150 military families stationed all over the world through a special astronomy virtual program.
Jeremy Osowski came in late summer to Great Basin National Park and stayed through the fall. Jeremy had just graduated from the University of Colorado Boulder, where he studied Astrophysical and Planetary Science. While in college Jeremy worked at the Fiske Planetarium on the University of Colorado's campus. "While I loved doing research, such as on NASA's MAVEN mission, I was really drawn towards the public and student interactions provided by teaching and working at the planetarium," Jeremy related, "This passion led me to the Night Skies Internship at Great Basin National Park."
Like Serena, Jeremy's role at the Park involved creating, planning, and delivering astronomy programs several times a week which were accompanied by an hour or two of telescope observation. He related that, "the highlight of my time was running the 12th annual Astronomy Festival. This year we saw upwards of 700 visitors during the festival and 15+ volunteers each bringing their own telescopes. This experience was a blast and provided so many great interactions geeking out with fellow stargazers!"  
Callum Russell came to the Park this fall after earning a degree in Geology and Geophysics from the University of Wyoming. "My experience here at Great Basin National Park has been downright awesome!" said Callum, "I have learned so many different interpretation skills and methods on how to communicate with the general public. The cave tours specifically reach out to me. They provide a great balance of scientific interpretation and visitor interaction and are so much fun, and incredibly interesting." 
Great Basin National Park Foundation is looking forward to the opportunity to once again fund Scientist in the Park interns in 2022. It's an amazing experience for both the public and the intern. We are grateful for the opportunity to support the Park as well as these young, knowledgeable, aspiring professionals to gain real world experience in their field while simultaneously growing a life-long connection to America's National Parks.