Camping in Great Basin National Park
Wednesday, August 31, 2022 - 7:54am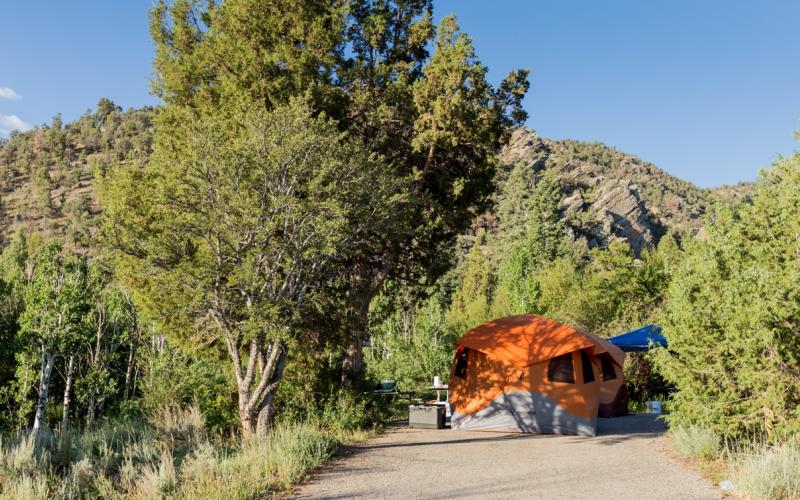 Photo: John Vermette
Camping is a great way to experience the serenity of Great Basin National Park. We hope that this page provides clarity on the process of camping in the park. If you have any further questions about camping, we encourage you to contact the Park at 775-234-7331. 
General Information About Camping in the Park
Information about camping can be found on the Parks's website here. 
Recent updates (as of 08/20/23): 
There is currently no water available in any campground in Great Basin National Park. Water is available at the Lehman Caves Visitor Center, park RV disposal station, and local Baker businesses.  
Reservations: Upper Lehman, Lower Lehman, and Wheeler Peak campgrounds require reservations during peak season (generally, Memorial Day to Labor Day). Tent campers can make optional reservations for some sites at Grey Cliffs Campground. Reservations open exactly 30 days in advance and can be made at https://www.recreation.gov/ or by calling 877-444-6777. The park website includes details on costs, cancellations, and refunds. Outside of peak season, all campgrounds are first come, first served. Please cancel your reservation if you no longer need it so that it can become available for another guest.
First Come, First Served Camping: Baker Creek and most of Grey Cliffs campgrounds are first come, first served. You can also find camping in Snake Creek that is very rarely full.
Facilities: Each developed campground has vault toilets, picnic tables, tent pads, and campfire rings with grills. There are no RV hookups.
Campsites: Specific information about each campsite can be found on the Park's website. Accessible campsites are available at Upper Lehman Creek, Wheeler Peak, and Baker Creek. 
Camping outside of the Park: In the event that no campsites are available in the Park, additional camping can be found on public lands and at private campgrounds near the park. A full list of options can be found here. 
Winter camping: Lower Lehman Creek is the only campground open year-round. Reservations are not required in the winter. 
Backcountry camping: Backcountry camping is permitted in most areas of the Park. Detailed information about backcountry camping including regarding regulations, locations, and permits can be found here.