Citation of Valor
Wednesday, October 13, 2021 - 12:06pm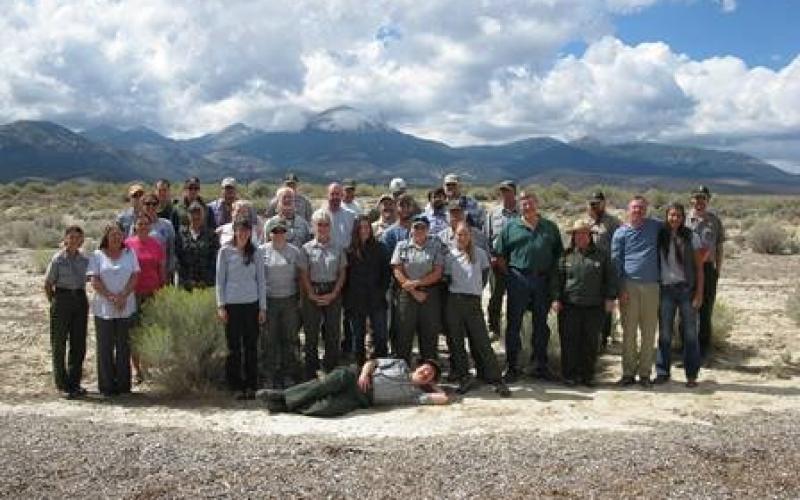 On September 23, Secretary of the Interior Deb Haaland announced the recipients of the Department's most prestigious awards, and Joshua Vann, manager of the Law Enforcement Program at Great Basin National Park, received a Citation for Valor from the Department of the Interior! The award is for bravery and lifesaving efforts for an event that happened on November 6, 2020, at Great Basin National Park.
On that day a Park visitor sped into the parking lot at Lehman Caves Visitor Center and crashed into the vegetated island. The car crash sealed the vehicle shut. As the driver desperately tried to get out of his car it caught fire. Park Ranger Joshua Vann arrived on the scene shortly after the car crash. He used the "jaws of life", an extraction tool that opens crashed vehicle doors, to open the burning vehicle's door and pull the visitor to safety moments before the vehicle exploded. 
Massive flames soon spread to nearby vegetation, and spot fires started spreading through the nearby historic fruit orchards. Strong winds made the situation even more dangerous. If this fire had gotten out of control, it could have burned primary park structures and houses just outside the park boundary. But with Ranger Vann as the incident commander, NPS staff and the local volunteer fire department worked quickly and resourcefully to gain control of the situation and put the fire out. 
"National Park Service employees often go beyond the call to serve visitors and protect park resources," stated Great Basin National Park's Superintendent James Woolsey, "This, however, was extraordinary. Josh pulled a visitor from a burning car and saved the person's life. Josh was a hero that day."
Great Basin National Park Foundation extends its gratitude and congratulations for the heroic and life-saving efforts of the NPS staff that day and especially to Park Ranger JoshuaVann. Hopefully, we will not need to see these types of heroic efforts again anytime soon, but we have full confidence that the highly trained, professional, and dedicated staff at Great Basin National Park will meet whatever challenge awaits them.