Education Programs Take Off in Spring 2023
Wednesday, April 12, 2023 - 8:20am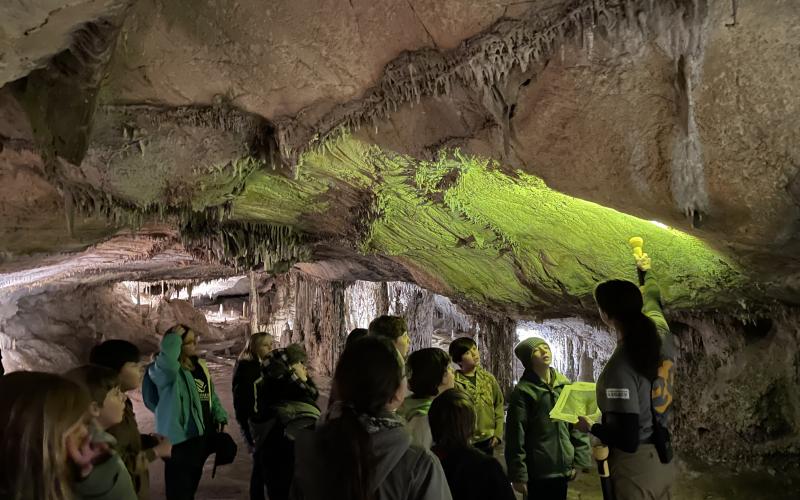 Great Basin National Park Foundation's (GBNPF's) education programs have blossomed over the 2022-2023 school year, reaching new audiences and building opportunities for continued growth in coming school years. The presence of our first ever AmeriCorps VISTA member, Claire Cutler, has increased our capacity to reach schools both within and beyond White Pine County. 
In January and February, several classes across four local elementary schools took part in our science-focused explorations of the Great Basin. A highlight of our in-person programming this year is the relationship that GBNPF formed with David E Norman Elementary School in Ely, Nevada. GBNPF created seven new lesson plans for fourth grade students at David E Norman. Claire conducted two classroom visits to each of their three fourth grade classes, and teachers taught the other five lessons to their students. The culmination of the unit on Great Basin geology and ecology was a field trip to Great Basin National Park. At the Park, students toured Lehman Caves, explored the Visitor Center, and were sworn in as Junior Rangers. At the end of the field trip, each student received an "Every Kid in a Park" pass, which allows students and their families to continue their exploration of national parks for free for one year.
In a reflection, one student said, "Our cave walk was about an hour long. It was an amazing experience. All of the rooms were very cool. My favorite room was the room where they showed us how dark it is in the cave without any lights." One teacher described the experience as "definitely the best field trip 4th grade has had in over the last 5 years." 
Visitors come from all over the country to experience Great Basin National Park, but without the support of GBNPF many children in the counties surrounding the Park would never visit. GBNPF is proud to increase access to Great Basin National Park and build meaningful connections with local schools.