First Middle School Students Complete Double Star Research Project
Thursday, April 13, 2023 - 10:20am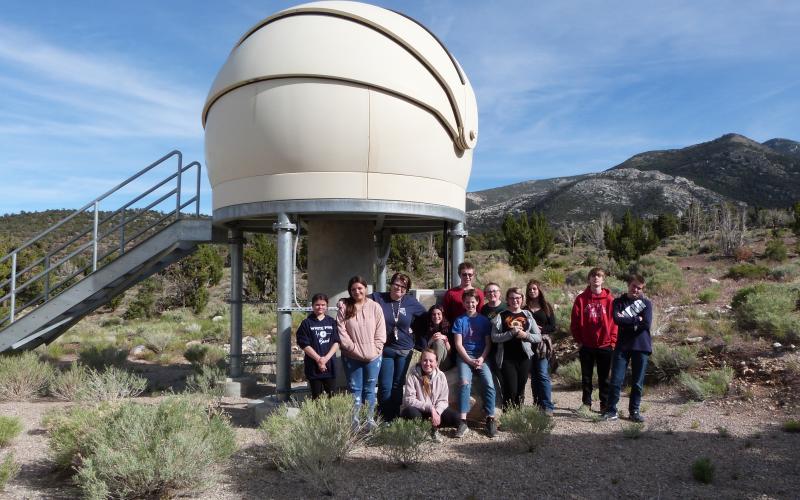 Two groups of students from White Pine Middle School in Ely, Nevada recently became the first middle school students to complete Great Basin National Park Foundation's Double Star Research Program. Under the guidance of their teacher, Ms. Kaelyn Porter, these students co-authored papers that were published in the Journal of Double Star Observations, a peer-reviewed scientific journal focused on double star research. 
Great Basin Observatory (GBO) Double Star Research is part of Great Basin National Park Foundation's (GBNPF) Reach for the Stars outreach and education program, which connects youth and adults to the unique wonders of the Great Basin, including its pristine night skies. 
Working with Dr. Cameron Pace, GBO partner and professor of physics at Southern Utah University, the White Pine Middle School students selected a double star system to study. Students then calculated the distance between the stars to determine if they were gravitationally bound or merely appeared to be orbiting each other. Students created and interpreted graphs, wrote a formal scientific paper, and submitted their findings for peer review before being published this month. Michaelynn Garcia, Deilana Henry, Noah James, Thomas Murphree, Landon Neilson, Kaleb Nielson, Natalyn Perkins, Zachary Davidson, Kayelynn Faris, Rebecca Murphree, Benjamin Nicholes, Keziah Nicholes, Finley O'Flaherty, and Evangeline Sorensen participated in the semester long project. 
In the past five years, students in Nevada and Utah have utilized the Great Basin Observatory and its academic programs to publish 13 peer-reviewed papers in the Journal of Double Star Observations. The authors of these papers include seven college students and 35 high-school students. This group of White Pine Middle School students are the first-ever middle school-aged authors. 
Graduates of the Double Star Research program credit the program with helping them find their passion for a career in science and teaching them technical skills. One graduate said, "The biggest impact of conducting research with the GBO was the confidence it gave me as a scientist to pursue research in my field and to stick with my passions, even when it was difficult."  When interviewed about how the experience compared to their other classes, White Pine Middle School students said, "It feels different because it challenges me a lot more" and "I feel like I'm treated more like a colleague instead of a student." 
You can read the students' papers in the most recent volume of the Journal of Double Star Observations:
White Pine Middle School Group paper 1, paper 2
Launch Academy High School Group paper 1, paper 2
Image: The White Pine Middle School students visiting the GBO. Credit: Aviva O'Neil