Great Basin Explorers 2023
Thursday, September 28, 2023 - 11:40am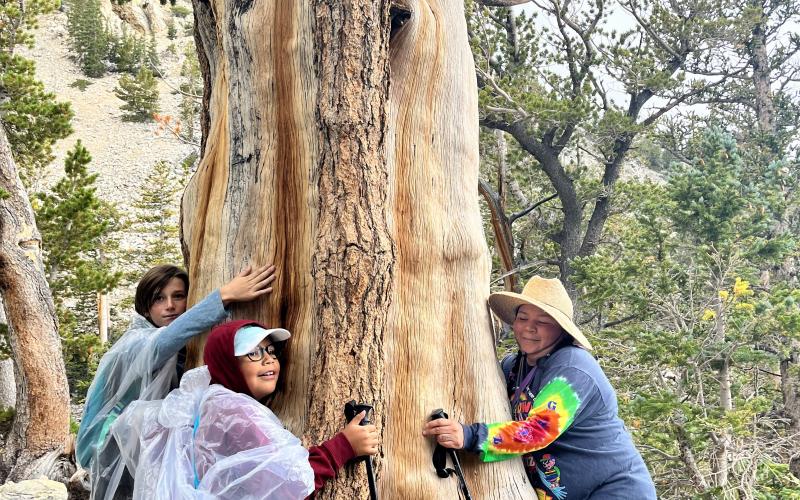 Great Basin National Park Foundation launched the Great Basin Explorers (GBE) program in 2023 to increase access for underserved communities to recreate in, benefit from, and become the next generation of stewards for Great Basin National Park (GBNP).
A 10-year National Park Service survey found that only 23% of NPS visitors to the nation's 419 national parks were people of color. High travel costs, lack of information about parks, and what to do once in them, and feeling that parks can be uncomfortable places to be, were identified as primary reasons for this demographic imbalance of who is enjoying and accessing America's most beloved treasures. Remote national parks, like Great Basin, have far fewer visitors of color than urban national parks and historic sites.
GBE addresses identified barriers for indigenous and urban youth of color to visit GBNP. GBE leverages resources and partnerships with local community organizations so that a diverse population of youth can experience GBNP in deep and immersive ways.
In 2023, during our pilot year, we supported four GBE camping trips: two indigenous multi-generational trips (Ely Shoshone Tribe and Duckwater Shoshone Tribe), and two African American trips from Las Vegas. The GBE program supported groups to camp in the Park for three days, tour Lehman Caves, attend ranger led programs, learn about the Park's geology, ecology, natural, and cultural history, and enjoy traditional camping highlights such as campfires and s'mores. Almost all program participants had never been to Great Basin National Park, tent camped, hiked at 10,000 feet, toured a cave, or seen celestial objects through telescopes.
Why did groups want to participate?  
Trip leader J.T. Reynolds said, "Great Basin is a Nevada National Park that serves as an outdoor classroom and protector of some of the state's most precious cultural and natural resources. I want our members and constituents to not only benefit from the education they will receive, but benefit from the outdoor environment's aesthetic, recreational, and spiritual influences."
How did groups respond?
With excitement and gratitude. Here is a sample of feedback:
"My favorite thing was the hike to the Bristlecone Trees. Why, it was a challenge and a challenge I would have never thought of ever doing. A great experience. Most valuable for the kids I think was learning about the history of caves and not only the caves, but how to take care of the land."
-Shalene Mike-Collins, Duckwater Shoshone Tribe
"It was the best campout ever. We were all truly in awe at what we could see through those telescope lenses….Great Basin National Park Foundation is truly angels for the amazing work they are doing to ensure access and equity for all."
Roz Brooks, Executive Director Blacks in Nature
"It was beautiful, and I think the new experiences for the kids, what they learned from the different people and resources at the Park, will be a memory they will cherish forever."
Teacher Tee (Tsiannia Thompson), Duckwater Shoshone School
"I'm going to stop playing on my devices when I get home. I'd much rather play outside"
Annabelle Parker, 9 years old, Ely Shoshone Tribe (big time video gamer)
What are some things we learned in our pilot project year?
Transportation costs are a significant barrier and were higher than we had anticipated. Identifying partners who wanted to participate took time and an investment in relationship building and trust. Once groups got to the Park things went very well! The investment of time and resources ahead of time, to purchase food, rent equipment, communicate with adults, chaperones, youth, and trip leads, to identify itineraries and make groups feel comfortable, took a significant investment of time. Many volunteer community leaders, as well as our staff, invested in this effort, and made our GBE programs a success.  
Great Basin National Park Foundation would like to thank the following groups for their contribution to supporting 2023 Great Basin Explorers programs:
Cashman Family Foundation
Great Basin National Park
National Park Foundation
Robert S. and Dorothy J. Keyser Foundation
Southern Utah University Outdoor Pathways