Tribal Youth to the Park
Wednesday, October 13, 2021 - 11:27am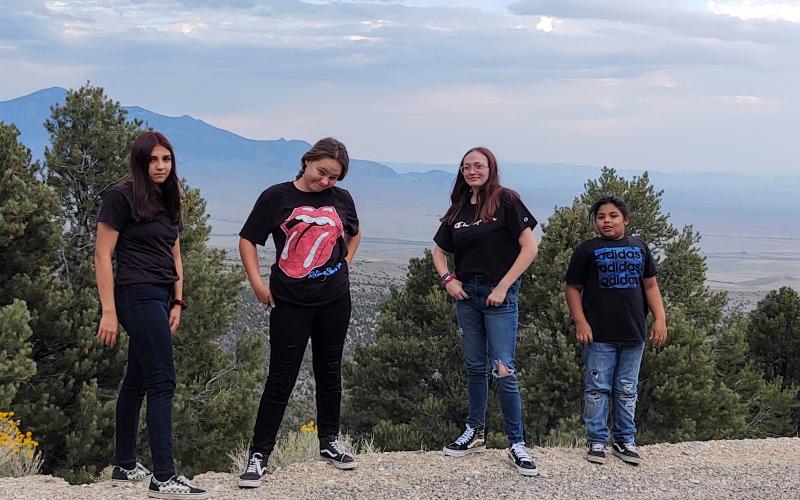 This September, the Great Basin National Park Foundation facilitated Ely Shoshone tribal members to attend the Great Basin National Park Astronomy Festival. The trip was planned through outreach initiated by GBNPF, and led by Ms. LaCinda Waggener, Ely Shoshone Youth Intervention Program lead. 
The group was comprised of two chaperoning adults, one 10-year-old and three teenagers, all of whom had never experienced the Park beyond a Lehman Cave tour previously. Everyone was thrilled with this deeper field trip experience, in which they explored the visitor centers, attended an interpretive program about bats, went on a short hike, and viewed celestial objects for the first time at the Great Basin National Park Astronomy Amphitheater. 
"Next year we should come in the morning and do a whole day trip so we can see everything," Nevaeh Stark related excitedly to the chaperones. The group loved the entire experience but was especially blown away by seeing planets and galaxies up close and in detail. "Oh, my gosh Mom! You have to see this!" exclaimed Khayos Kaamasee-Cole to her mom Deleah while viewing Saturn.
The Annual GBNP Astronomy Festival (which is supported by the Foundation) is a very special and popular event. This year Park visitors were able to participate in night sky photography workshops and attend Great Basin Observatory tours with pre-registration. Over the course of three days, all Park visitors were invited to attend ranger-led and special guest speaker presentations and to participate each night in telescope viewing and constellation tours. 
"We are very excited to engage the Ely Shoshone Tribe with the astronomy program at the park," said Great Basin National Park Foundation board member Kenji Hakuta. "Indigenous peoples have been observing the skies and the environment over the millennia, incorporating information into their agricultural and spiritual practices. It is rewarding to be able to connect the young people to that history."
The Ely Shoshone Tribe is one of the nine bands of what is known as the Western Shoshone Nation. The Nation is a signatory of the Ruby Valley Treaty of 1863. The tribe has over 700 members, with over 300 members living in the service area in White Pine County. 
"It really was a great time all-around," related LaCinda Waggener, "We are very excited to bring more youth and tribal members to the Park in the future, to hike, and explore, and get to know this beautiful place." GBNPF plans to support more field trips and Park programs for the Ely Shoshone. The demand and enthusiasm are definitely apparent. Kendra Thompson ended the field trip by relating, "Why do we have to wait until next year? We should come back next weekend." 
Learn more about the Ely Shoshone Tribe here.